With the continuous development of technology, the world really seems to be shrinking. And with such drastic change in technology, specifically in means of communicating, social media has quickly gained popularity. Your grandmother, your childhood sweetheart, your neighbor's newborn child, and even your dog, really everybody could have a social media account.
Several businesses and organizations use this opportunity to reach a larger audience to promote their products and services. It has become so easy to spread information on social media, but monitoring different platforms every hour to see how far one has reached, to reply to messages, and to promote more content, has become a daunting task. But fear not! If you find logging into multiple pages just to promote and manage your content a handful, there are a bunch of social media scheduling tools online that could save you from all the scheduling distress.
If you are already familiar to social media scheduling, then you probably have heard of and tried established platforms like Hootsuite and Buffer. And if your business does not really prioritize online promotion, then you are also probably looking for a Hootsuite Alternative or a Buffer Alternative. Consider this a lucky day because today you will be introduced to a new social media scheduling tool called Social Aider.
What Is Social Aider?
Social Aider is a social media scheduling tool. It helps you manage your social media accounts from different social media platforms using a single dashboard. It enables you to get your content ready in advance and then just schedule when the content for each social media platform will be posted. You can even line up a month's worth of content, and get real time notifications about your posts (i.e., if they cannot post your content to the specified platform).
Now the question is, is this tool really for you? Find out in this Social Aider review, where we will walk through Social Aider's features, pricing, and of course test the services, to have a feel of what it is like to be using this social media scheduling tool.
At the homepage, you will be greeted by a straightforward panel with its welcome message "Automate your social media accounts with Social Aider". Right below are some navigation buttons for a 1- year FREE trial and Pricing. 1 year of free trial is usually more than enough for content promoters to observe if Social Aider really has come to their aid in maintaining your social media platforms.
On the same page, you will be introduced to the main features of Social Aider: Scheduling, Time zone, Bulk Import, and RSS Import. There are also testimonials and reviews of how Social Aider has helped other users manage their social media accounts. There is also a link to the FAQs, and some blog posts which could help users to promote content more efficiently using different platforms.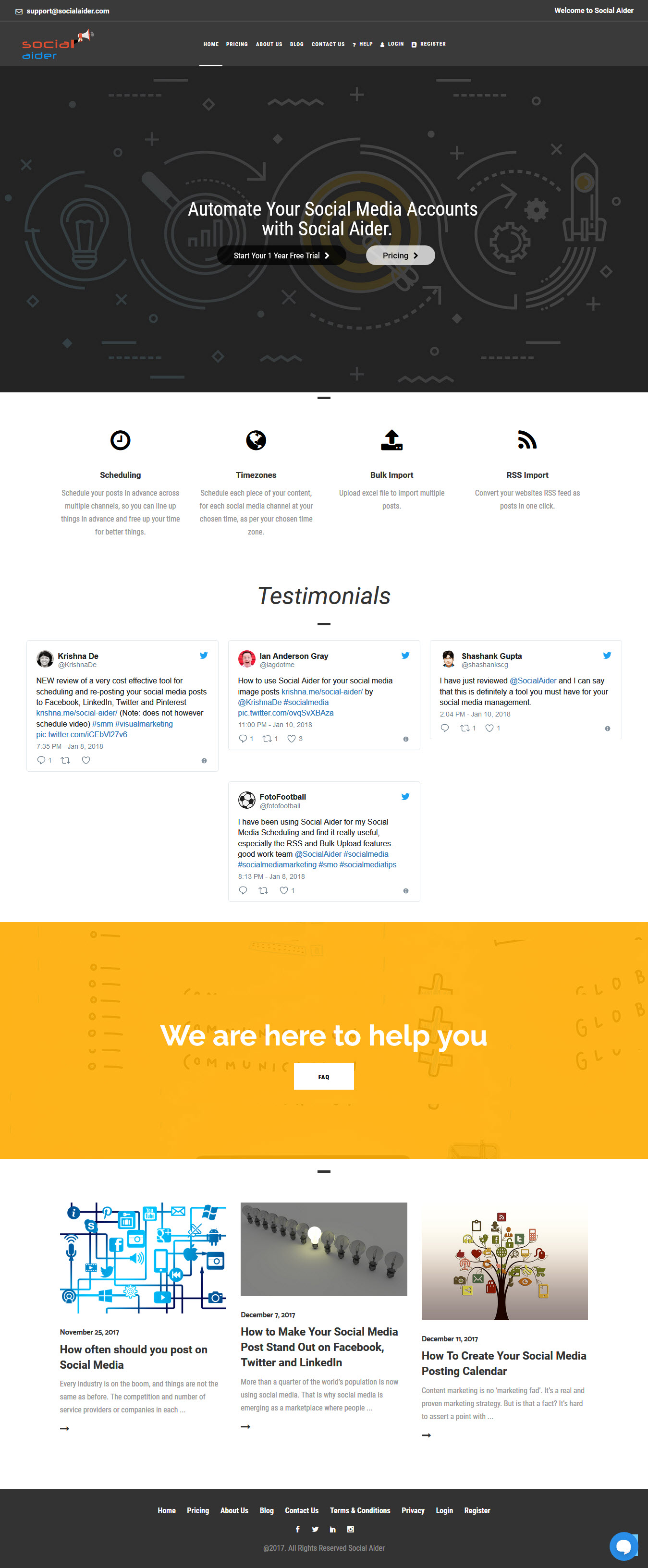 Pricing And Features
As much as a year of free trial seems to be golden for you, there is still no such thing as free lunch. Let's take a look at the tradeoffs of subscribing for free, and what you would get should you decide to upgrade and pay for their services.
| | | | |
| --- | --- | --- | --- |
| | Free Trial | $4.99 / Month | $11.85 / Month |
| Duration | 1 Year | 1 Month | 1 Month |
| Unlimited Social Accounts | Yes | Yes | Yes |
| Unlimited Projects | Yes | Yes | Yes |
| Number of Posts | 150 | 300 | 1000 |
| Post Duplication | Yes | Yes | Yes |
| Bulk Excel Import | Yes | Yes | Yes |
| Delete Posts From Social Accounts | Yes | Yes | Yes |
| Time Zones | Yes | Yes | Yes |
| RSS Import | Yes | Yes | Yes |
Looking at this table, the only tradeoff of using their free trial, which is a big one if you post heavily, is that you only get to post 150 posts using Social Aider for a year of free subscription. This means that if you post 5 times daily in your social media platforms, and you plan to manage all of them using Social Aider, you are going to max out a year's worth of free social media management in just 30 days. This is not really a bad thing since free trials are only supposed to be your ground for judgment if you would continue using a service or not, and I do not think you really need a lot of time for that.
Now let us say you are happy with Social Aider because it really helped you promote your content more efficiently, and you decided that you want to upgrade your subscription to Personal ($4.99 / Month) or Professional ($11.85 / Month ), just how much an upgrade would that be?
Well depending on your online activity, it may or may not be much. For a Personal subscription, you get 300 posts per month, and for Professional subscription, you get 1000 posts per month. That allows around 10 posts daily, which is not very bad for promoting content. Will this pricing justify Social Aider for being a Hootsuite Alternative and Buffer Alternative? in case you finished your 300 post before the month end, you can renew the same plan again. Social Aider charges you on the basis of post, so you can buy as many post as you need.
With Social Aider, you can manage unlimited number of projects and unlimited number of social media accounts using all three types of subscription. This feature is not offered by more established scheduling tools. However, if unlimited number of posts is to be added to this equation, it easily equates to disaster! A lot of spam, heavy network traffic, and possibly system crashes. So if you need more posts, and are willing to pay extra, you can buy more credits from your Social Aider dashboard.
Now let us talk about the other features. Aside from scheduling your posts in all your social media accounts, you also have the option to upload in bulk using their Excel template. We will look into these features later. Users can also duplicate and delete posts using Social Aider and also, you can convert your RSS feed to posts in just a click; no need for an external RSS reader. Another feature which i like is Video Upload, you can not only share image content but also upload MP4 videos with your followers.
These are rather basic features that are needed for social media marketing. Let us now see what Social Aider actually has in store for us.
Putting Social Aider To The Test
We have now come to the main event of this Social Aider review – the actual testing of the platform (by a first time user). After signing up for the free trial and verifying my email, I was brought to the sign-in page at https://app.socialaider.com/
The welcome page has all the essentials to begin managing your social media accounts. There is a written Getting Started guide, and there are video tutorials to help new users get a hold of Social Aider's interface. Let us follow the Getting Started guide.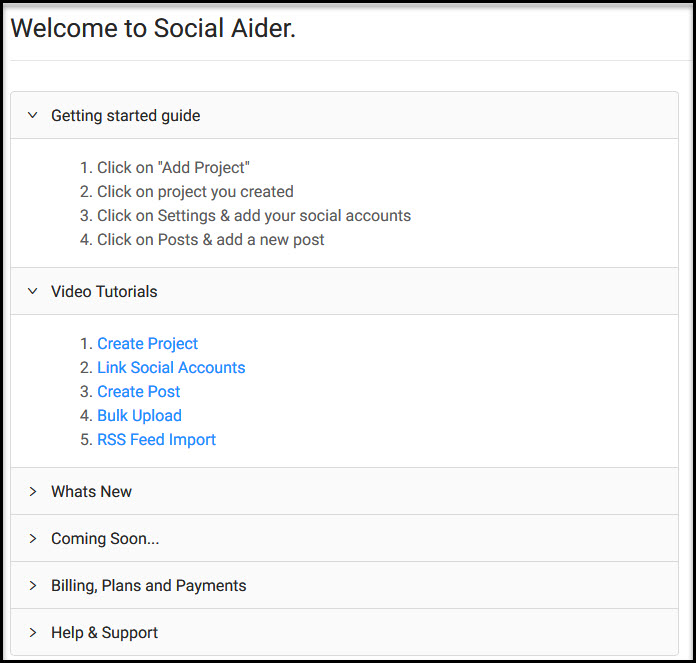 ADD PROJECT
Adding a new project will bring out a pop up dialogue box for you to name your project and select Timezone, your post will be posting in the timezone you select here. I named my project ShashankGupta.net
SELECT THE PROJECT YOU CREATED
The project tab will expand and display options for you to manage your selected project: Posts, Bulk Upload, RSS Feed and Settings. Let us see the Settings first.
SETTINGS
This is where you link your social media accounts to the project. At present You can connect 3 social media platforms to a project (Facebook, Twitter, LinkedIn). But you can connect unlimited number of accounts to your project. I linked my personal Facebook, Twitter, LinkedIn accounts to 'ShashankGupta.net'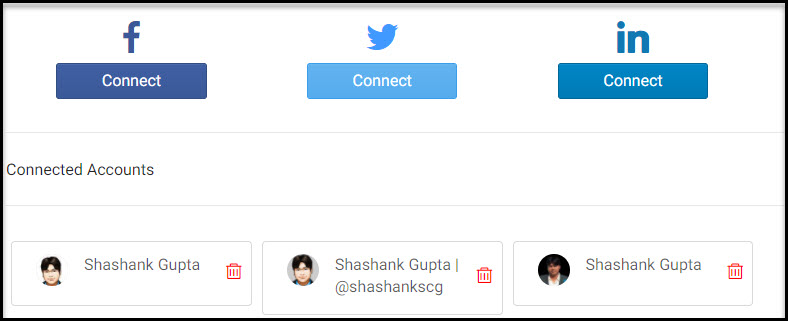 If you're managing pages in Facebook, Social Aider will have access to those pages too, which hopefully will make posting via Facebook pages a breeze.
POST
Now let us get to posting scheduled posts. By clicking 'POSTS' under your project name, you can set your selected social media accounts to post simultaneously at your preferred time. I decided to post a photo and caption to my Facebook and Twitter and Linkedin account. The image uploader is limited to uploading 2MB images only. Social Aider successfully posted this photo to my linked Facebook and Twitter accounts. You can also post videos using Social Aider.
It's also nice that they have a separate text box for Twitter, should your text exceed Twitter's character limit. You also have the option to 'cancel' a scheduled post by deleting it before the selected schedule. The remaining post count will be reverted if this is done.
BULK UPLOAD
In bulk uploading using Excel, the restriction is that the whole Excel file should not exceed 2MB, and the number of rows (posts) should not exceed 200. This is not bad since the images need to be uploaded and embedded, as in the template. Here is the template I downloaded from the Bulk Upload page and added my blog posts for uploading.
The input formats are already indicated in the tabs, and you can schedule different posts separately, which is really useful for those who post more than once daily. However, you need to have the images uploaded to use the bulk uploader.
This is a really helpful feature, as all sites dont offer RSS hence you can extract those post and upload them using excel to share on social media, also you can post your own blog posts using bulk uploader with different #tags and timings.
REPOST AND DELETE POSTS
In the Sent tab in the Posts page, it was easy to duplicate a post by clicking the repost button. This is useful if you want to repost a post you made a few days ago via Social Aider. Deleting posts in multiple platforms also just takes a single click and it will delete your post from your social accounts where you posted it ( Linkedin doesnt support this feature hence you will have to delete the post manually from LinkedIn).
FINAL THOUGHTS
I liked that everything you need to get started in using Social Aider is in the welcome page before you sign in, so you could really get a feel of the platform before deciding to use it. A year of free trial is a bit too much, but the 150 post limit makes it reasonable.
If it's your first time using a social media scheduling tool, then you'll probably throw away a few posts before getting used to the interface. But after those few trial posts, posting content in different social media platforms will definitely be easier and more efficient than logging into several accounts and then uploading content one by one.
Social Aider takes a lot of getting used to, but it does exactly what it promised, and is really helpful especially to small start-up businesses and people with limited budget for online publicity and social media agencies who handle many clients as it offers unlimited projects hence so extra costing when you add new social accounts unlike others where you have to pay for linking every new social accounts. With this, I think Social Aider is a reasonable Hootsuite alternative and Buffer alternative, with a few tradeoffs of course. I only wish there were a feature where you could see how many people your post has reached and some more social analytics. It would also be better if there were more social media platforms that could be linked to Social Aider, but it should be noted that the pricing is way cheaper compared to other social media scheduling tools, and that you can link unlimited accounts and projects with Social Aider.
Hence go and take a advantage of Social Aider's one-year free trial and schedule your post.
My Social Aider Review Rating