Email Marketing Software - GSA Email Spider Review & Discount Coupon
GSA Email Spider Review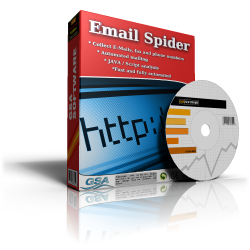 What is GSA Email Spider –
GSA Email Spider is software which extracts emails, phone and fax numbers from the websites. You can use this extracted data in order to contact organizations/ individuals via cold calling or Email marketing.
Who is GSA Email Spider for–
This tool is suitable for the audience who wants to achieve any of the below goals
To improve your Blog / website traffic using email marketing
To generate leads for business using email marketing
To promote your product line through email marketing
To promote your product/generate business via cold calling
How does it Work –
GSA Email Spider offers two options to extract emails, phone and fax numbers –
Using your targeted keyword – You can put in a list of targeted keywords in the program and choose the search engines you want to work with. This program will search targeted keywords, harvest search results and then will crawl those website to find email, phone & fax no for you.
OR
You can upload a list of websites / Directories from which you want to extract emails, phone and fax numbers. GSA Email Spider will crawl all those websites and collect the data for you.
Features of GSA Email Spider –
Data Extraction – It can extract email ids, phone no & fax numbers from websites.
Auto Mailer – After collecting email ids, it can also send emails to those extracted email ids; all you need to do is; create a mailer which you want this program to send and put in the SMTP details.
Fake Email Detection – Software is designed to detects & remove Fake email ids.
Protected Email Detection – It also analysis JavaScript to find protected email ids.
Random User Agent – Uses random user agent for better scraping
Enriched Data Collection – You can collect more data from website apart from email, phone and fax. You can collect Page title / Description / keywords / country / domain as extra data.
Targeted Email Collection – Lots of options to optimize your setting to get targeted email ids.
Country based Search Engines – Option to choose from lots of different countries search engine to find email ids.
Private Proxy Option – You can set your private proxies to make the program perform better.
Light & Fast – GSA Email Spider is light tool & offers fast processing.
Updates & Support – Regular Updates& quick support from the company.
Pros and Cons –
Pro – I have been using GSA Email Spider from last three years and never faced any problem with it. It works smoothly and collects email ids as per the targeted keywords. GSA Email Spider support is awesome and updates program frequently for better performance. Its data extraction works flawlessly.
Con – GSA Email Spider is a great tool for email scraping and there is no doubt about it; however I feel that its auto mailer functionality can be further improved as at times I face issue sending auto mails using it hence I have started using Black Bulk Mail for sending emails.
Black Bulk Mail is email sending software, it can't scrape email ids, and hence if you combine both of these tools your email marketing campaign will get highly successful.
How Much Does it Cost –
GSA Email Spider costs $99 for the life time license with regular updates
Any Discounts –
You can get 12% special discount using coupon code – EMAILSPIDER12 This will bring down the price to $87.12
Free Trial –
You can download a FREE Trial of GSA Email Spider from here. It comes with limited features.
How to use GSA Email Spider –
I have created a video showing how to collect targeted email ids using GSA Email Spider.  In the video I have taken an example where I wanted to get more signups for the patient management software which a client had launched. I wanted to reach targeted twitter audience for this and used GSA to achieve my goal. You can watch the video below.
My Verdict –
GSA Email Spider is value for money and it is a tool which every marketer/blogger should have in their arsenal. Targeted emails are one of the most effective ways of promoting anything. If we scrape emails and use them wisely and not for SPAM then GSA Email Spider can do wonders for you.
Using this tool I have scraped thousands of emails and used them wisely to promote product & services and I have achieved great success with it. Use it wisely and this tool can do wonder for your marketing campaign.
Note:
CAN-SPAM Act of 2003 (U.S.A), prohibits sending of messages to harvested email address. There are similar laws in Australia and New Zealand. Strictly speaking emails collected through GSA email spider are harvested emails, and fall under the purview of these acts. If you stay in any of the aforementioned countries, you can still use the software to collect data for cold calling/ site visits. For all other countries, there are no laws prohibiting sending of mailers to harvested email address.